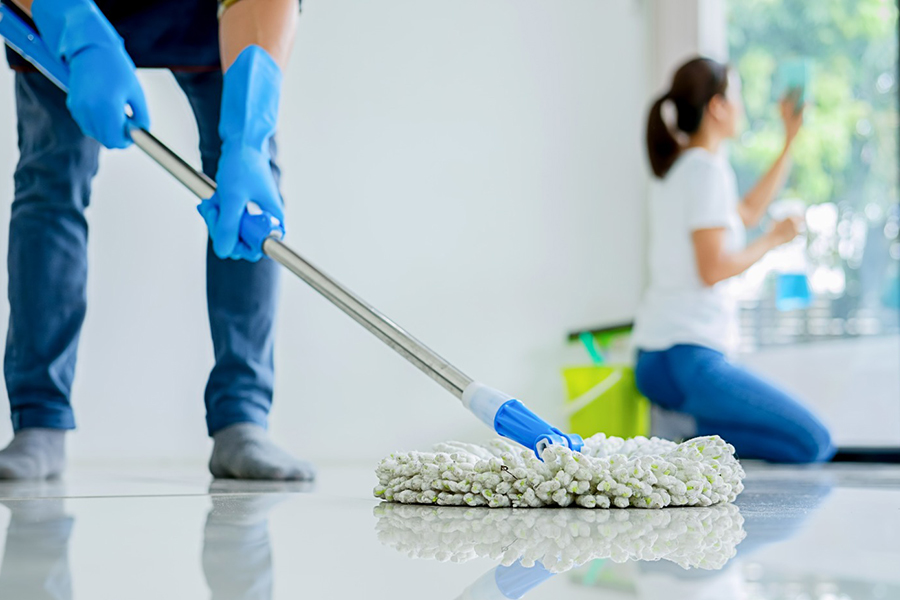 WHAT IS A STANDARD CLEANING?
A standard cleaning is designed for people who don't have the time or energy to keep their homes clean on a regular basis and is intended to take over that routine maintenance of the home. When you book standard cleaning services with A1 Cleaning of McAllen Weslaco, you know that your home will always be healthy and happy, without the hassle of looking after it yourself.
Because our standard cleaning services are part of our flat rate packages, you will always know exactly how much your cleaning will cost, and all tasks performed will be limited to a standardized cleaning checklist. These packages assume that your home is already at a certain level of cleanliness and that it is of average size.
WHY SHOULD YOU HIRE PROFESSIONAL STANDARD CLEANING SERVICES?
Keeping your home clean is an ongoing job, one which most people simply don't have time for these days. Cleaning your home once isn't enough – before you know it, the dust, dirt, and grime will have piled up and will be time to clean again.
With so much going on in your life, keeping on top of a reliable cleaning routine can seem hopeless. Whether your time is spent at work, with family, or with friends, there's not much of it left at the end of your week for cleaning.
That's why A1 Cleaning of McAllen Weslaco offers recurring standard cleaning services. We always make time for cleaning our customers homes, so they don't have to. We know exactly what it takes to keep your home sparkling clean, and with our standardized checklist nothing will ever be overlooked or forgotten. Your home will receive attention it needs without the time commitment from you.
WHEN TO SELECT A STANDARD CLEANING
When booking your first cleaning services, it can be tempting to choose whatever the cheapest option is. However, since a standard cleaning package is intended for routine maintenance, you should only select this option if your home has been well-maintained and kept to a high standard of cleanliness. If you're just looking for someone to take over your cleaning routine and your home only needs the basics, then this option is right for you.
If your home has not been cleaned by a professional McAllen maid company within the last few days or hasn't been maintained very well, it may benefit you to choose our deep cleaning services for your first booking. This service allows extra time for our cleaners to focus on the neglected areas of the home and bring it back up to pristine condition. Once we've worked our magic with a deep clean, you should then switch over to standard cleaning services to maintain your home's new sparkling condition.
CLEANING GLOW OFFERS A PREMIUM CUSTOMER EXPERIENCE
When you book with A1 Cleaning of McAllen Weslaco, we want to provide you with a premium customer experience from start to finish. That's why we've streamlined our process to make it as convenient as possible, every step of the way.
With our easy-to-use online booking form, you can have your initial appointment set in a matter of seconds. In the form you can choose the service you need as well as any additional extras, such as cleaning the inside of the fridge or the window blinds. And, because we believe in upfront, clear pricing without any hidden costs, the price of your cleaning will be shown instantly and updated as you make different selections. At check out, you can pay using your credit card, so you don't even have to worry about getting cash.
To make things simple for you, we will provide all of the required equipment and cleaning supplies for every service. We bring only high-quality products with us to ensure the job is done properly, and we can even accommodate green and eco-friendly cleaning requests if you let us know in advance that it is important to you.
We also take safety very seriously, and we make it one of our top priorities because we know that bringing a stranger into your home can be nerve-wracking. Our cleaners have passed a rigorous vetting process, including in-person interviews and nationwide background checks. We are also insured and bonded, so you can be sure that you, your home, and your belongings are safe with our trustworthy cleaners. Check out our about page for more information about us.
Alamo TX Standard Cleaning near me
Alton TX Standard Cleaning near me
Brownsville TX Standard Cleaning near me
Donna TX Standard Cleaning near me
Edcouch TX Standard Cleaning near me
Edinburg TX Standard Cleaning near me
Elsa TX Standard Cleaning near me
Granjeno TX Standard Cleaning near me
Harlingen TX Standard Cleaning near me
Hidalgo TX Standard Cleaning near me
La Joya TX Standard Cleaning near me
La Villa TX Standard Cleaning near me
McAllen TX Standard Cleaning near me
Mercedes TX Standard Cleaning near me
Mission TX Standard Cleaning near me
Rio Grande City TX Standard Cleaning near me
Raymondville TX Standard Cleaning near me
Palmhurst TX Standard Cleaning near me
Palmview TX Standard Cleaning near me
Penitas TX Standard Cleaning near me
Pharr TX Standard Cleaning near me
Progreso TX Standard Cleaning near me
Progreso Lakes TX Standard Cleaning near me
San Juan TX Standard Cleaning near me
Sullivan City TX Standard Cleaning near me
Weslaco TX Standard Cleaning near me
A1 CLEANING OF MCALLEN WESLACO